Auckland, New Zealand: An Unexpected Journey
"Sorry! I don't want any adventures, thank you. Not today." - Bilbo Baggins
New Zealand wasn't planned. It was supposed to be the entrance and exit to/from mainland Australia, but we couldn't resist the wanderlust of being in a foreign country. While some parts of me wish that we saved New Zealand for a different trip, it also gave me a survey of the grounds and what to look forward to next time I'm here. Our Auckland adventure was a destination stop to see Hobbiton, and with the extra days we had before our final flight (thank god!!), we had time to explore.
AirBnB of Modern Dreams
The more I look back on our Auckland trip, I realize I spent too much time in our AirBnb place than I should have. To be fair, it was gorgeous and only a ten-minute walk to downtown. The outside is a very modern and abstract design of masonry squares. The apartment was even more gorgeous with wide open windows to let natural light in, a wide open space, and a great view of the city. It was hard not to cozy up inside and have a nice night in.
Walk the CBD in a Day
New Zealand ain't a big country and Auckland ain't that big of a city, so the CBD is small enough that you can walk from one end to the harbor within an hour. Whatever you have planned for the day you could probably get it done within 8 or 9 hours. Queen Street is one of the main streets filled with people and high end stores. I love walking and exploring the city, and I got to explore most of it. Cool spots and interesting architectures await you in new places, Auckland was no exception. This includes the Auckland Art Museum, the various shopping plazas, the ice skating rink in the center, and more. You'll find that many tourists end up near the harbor to take boat rides to the numerous islands around.
The other reason exploring the city was great was because of Pokemon Go. People really took their Pokemon hunting seriously, so somehow we ended up at the harbor trying to find a squirtle.
Primary Mission: Hobbiton, achieved.
If you're obsessed with Lord of the Rings or remotely familiar with it, you'll remember the town of Hobbiton where Bilbo Baggins, Frodo, and more lived. This is also where every Lord of the Rings journey starts. The Hobbiton set was left intact for people to visit, and you won't believe how truly surreal this place really is. It's acres and acres of rolling lands, and when you come closer, you'll see a little nest of hobbit holes*. You're able to walk the trails and see basically everything from tiny clothes hanging to dry, a mini farm, to Bilbo's famous "No admittance" sign.
After Hobbiton, we took a short stop over to the Waitomo Caves to see the epic glow worms. Venturing down the stairs, we took a freakin' boat ride in a cave river. As you look you up, you see all these glow worms shining like glow stars. You forget for a second that these things are super gross as they emit thousands of tiny light all over the ceiling. Unfortunately, you can't take photos of the glow worms, but it's an unforgettable experience.
*It's possible now that I'm hobbit sized.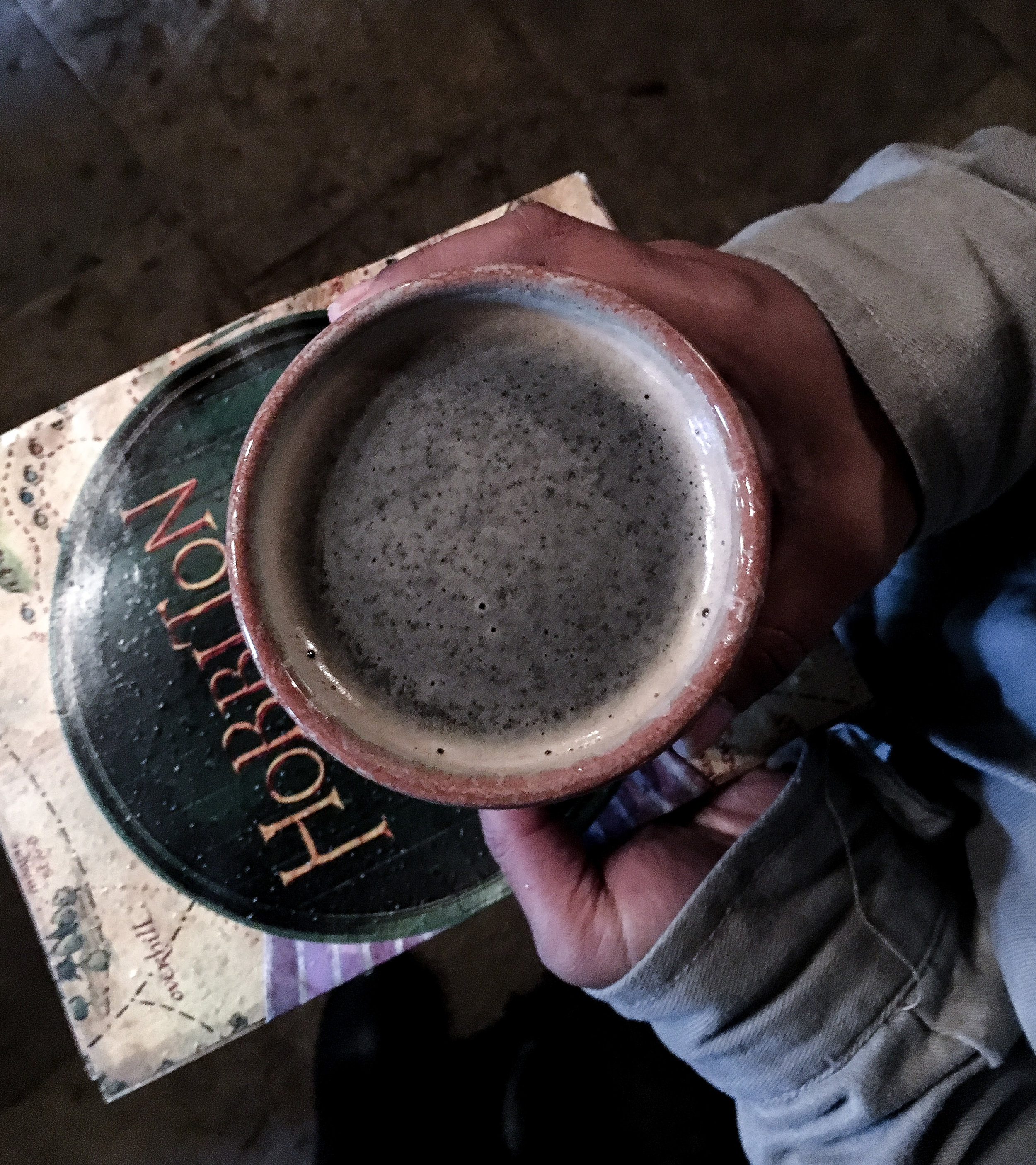 Waitakere Ranges & Piha Beach
On our third day in Auckland, we kinda realized how much we were missing by not exploring the rest of New Zealand. We came for Hobbiton, but we forgot there's more here than that. That's why we booked a last minute trip out to the Waitakere Ranges, Auckland's Wild West. The Waitakere Ranges is a massive area made of lush rainforests, waterfalls, and black sand beach coastlines. That's right, black volcanic, magnetic sand to squish your feet in. This place was beautiful, but don't come during rainy days!
It's worth mentioning that New Zealand has like 0 predators, except dogs. Don't expect snakes or spiders to be roaming around in forests.
Food & Coffee
I got sick of the underwhelming tastes of Australian food, so Auckland food didn't really appeal to me as much. I craved something with flavor that home brought, so we found our way to Satya, a local South Indian restaurant that had the best Dahi Puri you'll have. Feeling a little better, we ventured out to some other spots.
One of the best looking waffles I've ever had was at Waffle Supreme. It's a small food stall with big flavors and the tastiest waffles. There are plenty of small shop vendors, like Popa's Pretzels, to get quick meals from. I highly recommend these over sit down restaurants because expensive prices aren't worth the meal as I've noticed. I couldn't leave Auckland without trying muesli at least once. Muesli is a breakfast dish with dried oats, dried fruits, and some yogurt. With a quick stop over at Benediction cafe I developed an appreciation for muesli and savored my last down under coffee.